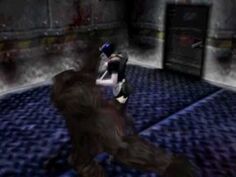 Belladonna is a housewife and librarian from Savannah, Georgia, who, after discovering that her husband was having an affair with her sister, snapped and transformed into a sadistic dominatrix, murdering them both. She is armed with an electric cattle prod. She died after committing suicide by electrocuting herself with her cattle prod while taking a bath, which was reported as being "accidental". She is the most sexually themed character of the game, and, consequentially, was considerably altered in the censored version; her orgasm-like moans were replaced with Violet's giggle, and her third Thrill Kill was removed, in which she appears to perform oral sex on her opponent, only for the camera to reveal that she is merely tickling their foot with a feather. Her ending involves her preparing to murder her husband.
Ad blocker interference detected!
Wikia is a free-to-use site that makes money from advertising. We have a modified experience for viewers using ad blockers

Wikia is not accessible if you've made further modifications. Remove the custom ad blocker rule(s) and the page will load as expected.