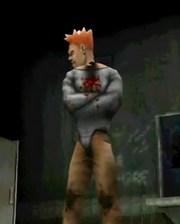 Oddball is an FBI criminal profiler from Belfast, Maine, who, after a long time of tracking serial killers, was driven insane and became one himself. His costumes feature him bound in straitjackets, having his arms tied behind his back, or with them amputated altogether, and so he relies on using his head, torso and legs to attack. He died after being gunned down by his protégé. His ending shows him becoming insane as he waits for a criminal's execution.
Ad blocker interference detected!
Wikia is a free-to-use site that makes money from advertising. We have a modified experience for viewers using ad blockers

Wikia is not accessible if you've made further modifications. Remove the custom ad blocker rule(s) and the page will load as expected.